Covid Sanitation Services
Bus Stop Shelter
& Transit Cleaning
Are you tired of dirty and unsanitary bus shelters and transit stations? Look no further! Our transit and bus stop shelter cleaning offers top-of-the-line cleaning solutions to ensure that your transit experience is as comfortable and pleasant as possible.

With our professional team and state-of-the-art equipment, we guarantee that your transit stations will be spotless and hygienic. In addition, our bus stop cleaning company offers comprehensive shelter cleaning services for all types of transit shelters! Clean and Comfortable...
Transit & Bus Stop Shelters That Impress!
Public Transportation Never Looked So Good!
A clean and well-maintained transit system is essential for providing a positive experience for passengers and reflecting well on your organization. Our professional cleaning and maintenance services cover every aspect of transit station and bus shelter maintenance, including deep cleaning, graffiti removal, and general upkeep. Trust us to keep your transit system in top condition. Moreover, our transit and bus stop cleaning services can benefit your organization by providing safe and hygienic transit for employees and riders. Our team of highly trained and experienced professionals uses eco-friendly cleaning solutions to ensure that every bus shelter we service is immaculate. From restroom cleaning to power washing the floors, we leave no detail overlooked. In addition, we provide regular maintenance cleaning to keep your bus shelters in tip-top shape all year round.
Enjoy A Clean Ride & Better Commute
Bus Shelter
Cleaning Services
Dirty and unsanitary transit stations can be a breeding ground for germs and bacteria. Our maintenance cleaning services can help you keep your bus stop shelter and transit stations clean and hygienic. We use advanced cleaning techniques and equipment to ensure that every surface, from the floors to the walls, is sanitized and disinfected. Our team is also trained to follow all CDC guidelines for cleaning during the pandemic. In addition, transit and metro bus cleaning keeps your city looking great! Don't let filthy, contaminated bus shelters reflect poorly on your transit agency. Trust our bus shelter company to keep your environment spotless and safe.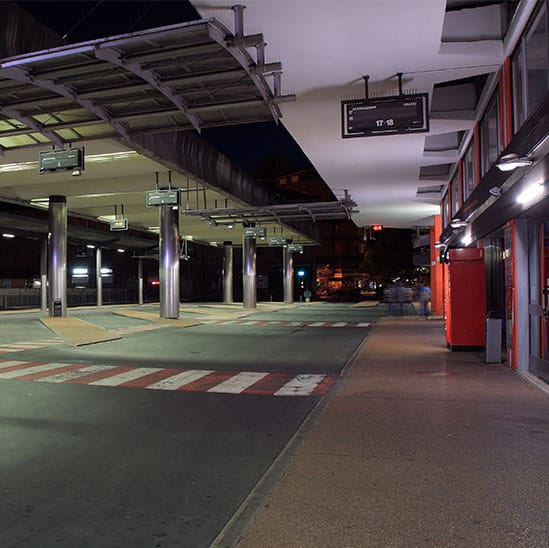 Sign Up For A
FREE Estimate!
Contact us TODAY to schedule your cleaning and give yourself the peace of mind you deserve.
Hot/Cold Water Pressure Washing
Restroom Cleaning & Sanitization
Lunchroom & Appliance Cleaning
Disinfect Customer Lounge Areas
Floor Wash, Vacuum, & Polishing
Concrete & Ceramic Floor Care
Parking Lot & Garage Cleaning
Clean Offices & Waiting Areas
Frontage & Entrance Cleaning
Hardwood Floor Maintenance
Dust Cases, Kiosks, & Shelves
Carpet/Upholstery Cleaning
Janitorial Building Services
Office Cubicle Cleaning
Tile Floor Refinishing
Graffiti Removal
ATM Cleaning And More!
And More!
We're dedicated to being one of the best bus shelter cleaning companies in the industry. To keep your transit and bus stop shelter stations clean, contact us TODAY!