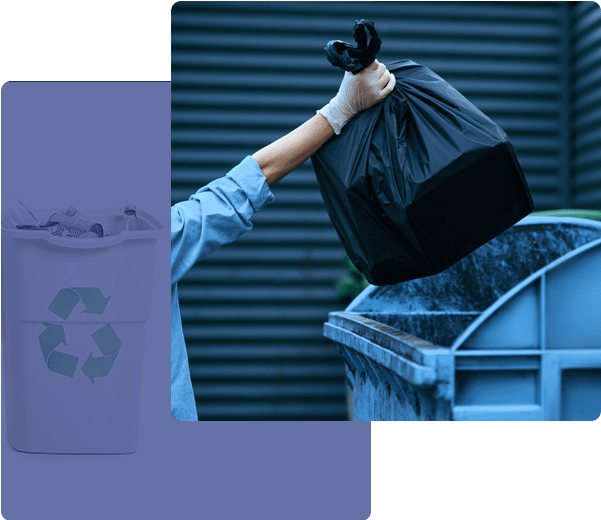 We Love To Keep
Our World Clean!
Our comprehensive solid waste services will collect, remove, and dispose of all solid waste from your site. In addition, refuse, garbage and recycling and other waste products at multiple locations. With over a decade of experience in removal and hauling of waste for over 300 locations, we offer clients assurance in quality cleanup. Leave the Dirty Work to Us...
Expert Solid Waste Collection Services!
Leave the Dirty Work to Us!
Solid Waste
Collection Services
When it comes to our clean building services, good is simply not good enough, we strive for meticulousness. These values allow us to provide the best interior and exterior office cleaning San Francisco and surrounding areas have to offer! Our licensed, insured, and bonded cleaning technicians are experienced in first-rate commercial cleaning. focus on the cleaning priorities for banks and office buildings and provide spotless teller stations, polished floors, spotless restrooms, as well as clean and fresh customer lounge areas. In addition, we also offer warehouse maintenance services, industrial facility cleaning, factory cleaning, and more!  
Keeping Our
Neighborhoods Clean!
Needless to say, public waste is not only an eyesore, but also extremely detrimental to our community's overall health and wellbeing. Our professional solid waste service not only benefits your business, but helps protect our environment. By removing waste and recycling materials, we're able to reduce pollution in our cities and neighborhoods. From government buildings, large properties, to commercial space, consider Clean Service Solutions Inc. your trusted public waste service. We are dedicated to providing top-notch solid waste services to our customers. Our team of experts is committed to ensuring that your waste is handled efficiently and responsibly.
Sign Up For A
FREE Estimate!
Contact us TODAY to schedule your cleaning and give yourself the peace of mind you deserve.
Hot/Cold Water Pressure Washing
Restroom Cleaning & Sanitization
Lunchroom & Appliance Cleaning
Disinfect Customer Lounge Areas
Floor Wash, Vacuum, & Polishing
Concrete & Ceramic Floor Care
Parking Lot & Garage Cleaning
Clean Offices & Waiting Areas
Frontage & Entrance Cleaning
Hardwood Floor Maintenance
Dust Cases, Kiosks, & Shelves
Carpet/Upholstery Cleaning
Janitorial Building Services
Office Cubicle Cleaning
Tile Floor Refinishing
Graffiti Removal
ATM Cleaning And More!
And More!
Experience the difference that comes from working with a company that truly cares about the environment and our community!